BLOG
How to create a brand identity for your small business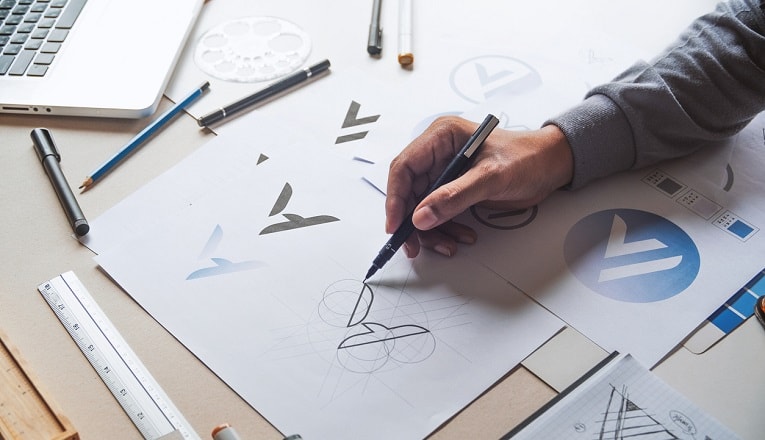 ---
Posted: Fri 25th Jun 2021
Brand identities are more important than ever for small businesses. There's a huge amount of competition out there and customers are increasingly choosing to shop with businesses that share similar values.
It's tough to know where to start when you're creating your own brand identity. How do you make sure the brand you choose sends the right message to customers?
In this blog, we'll look at how a strong brand can benefit your business and the steps you can take to build your own brand identity from scratch.
What is a brand identity?
A brand identity is made up of elements that demonstrate your company's personality, values and promise to customers. These elements include logos, colours, typography and messaging.
Your brand identity is what makes you recognisable and plays a crucial role in building trust and customer loyalty.
Enterprise Nation adviser and Thrive Studios founder Lisa Clunie says:
"Never underestimate the power of familiarity. When a customer is shopping and sees the unmistakable logo, colours and images of a brand, they're more likely to grab that product. Branding enhances your credibility with customers and helps to build loyalty, recognition and competitiveness."
How to create a brand identity
To build an effective brand identity, you need to think about why your business exists and what makes you different.
Enterprise Nation member Nadya Quintanilla explains all in the video below.
"Business owners often fall into the trap of getting their logo and website and little pieces together because they get excited about their business. But really, you need to define a plan and think, 'This is where I want to take my brand'."
Know your business
Your brand identity needs to accurately represent your business, so start by making sure you understand who you are and what sets you apart from the competition. Here are some questions to consider:
Why did I start this business?

What makes my business special?

What are my core beliefs and values?

How would I want customers to describe my business?

What do we do better than the competition?
Research your audience and competition
Like every other aspect of starting a business, research matters.
Your brand identity should be representative of your business, but bear in mind that your target customers need to be able to connect with it. Different audiences look for different things – a brand identity that resonates with teenagers probably won't resonate with 30-year-olds. Find out what your customers are looking for.
It's important to spend time researching your competition too. Your brand identity needs to create a point of difference, so take time to understand the look and feel of competitor brands. What can you offer that they can't? Could you portray your business as being friendlier or more innovative? A SWOT analysis might highlight opportunities here.
Choose a personality
The personality you choose will dictate everything from your colours and typography to your content and tone of voice. Do you want to be positive and wholesome like Innocent? Or confident and authoritative like Rolex? Looking at your strengths and how customers describe your business will point you in the right direction.
It's essential to make sure your brand personality fits your product or service. For example, accountants and finance firms need to instil trust and a sense of control.
Design your visual brand
Your logo is a key element and will appear on everything from your website to business cards. Remember that it will need to shrink down in size (for example, if someone is viewing your website on mobile) so don't make it too busy or complicated. If you're on a tight budget, Adobe Express has logo templates you can use.
Your colour palette and font will also shape people's first impressions of your brand. It's natural to pick colours that you like, but there's no guarantee that they will resonate with your customers.
Nadya Quintanilla recommends keeping your goals firmly in mind and not choosing things based on your personal preferences.
"It's not about saying, 'I love this pink colour'. Think about what you want your business to do. When people see you, do you want them to think that your business is childish or professional?

"The way you think about your goals is more important than 'Oh, I like this'. It's not about what you like, it's about what you need for your business."
Here are some practical tips for choosing visual elements of your brand:
Pick one colour and build the rest of your colour palette around it. Coolors lets you type in a hex code and generate complementary colour palettes. You can 'lock' colours you like, drag and drop to see what matches and view different shades.

Choose up to three fonts to use. Most people will use one font for headings and another for body text. Too many different fonts can make your branding look messy and inconsistent.

Australian brand agency Iconic Fox has a useful infographic that breaks down the personality and characteristics behind serif, sans-serif and script fonts.

Keep user experience in mind – some fonts might look great on desktop but become hard to read on mobile devices.
Use language that embodies your brand
The visual elements of your brand will shape first impressions, but content communicates your brand's personality to customers.
Brands that are high-end or provide professional services (like engineers, doctors or accountants) tend to use more formal, authoritative language. Brands that want to appear friendly and approachable should keep copy conversational.
Get an outside perspective
Ask for as much feedback as possible when developing your brand identity. It's easy to get fixated on what you think your business is, rather than how customers view it.
Lisa Clunie recommends working with a mentor or consultant who can make sure you're heading in the right direction.
"Often, business owners are too close to their businesses. They don't look enough into how other people perceive them and their products or services. Their content doesn't talk to customers; it talks at them.

"Sometimes it's good to get an outsider's point of view from someone who isn't too close to you."
Keep your brand consistent
Your brand identity might be clear in your mind on day one, but keeping it consistent can be challenging. As your business grows, you'll need to be able to succinctly communicate your brand identity to freelancers, contractors and employees.
One of the easiest ways to make sure your business sticks to the "rules" of your brand is to create brand guidelines. These guidelines should include:
a short description of your brand personality

the hex codes for your colour palette and any rules about using them

your brand typography and where each font should be used

a paragraph about language style and tone of voice

general do's and don'ts for building brand assets
Be prepared for your identity to evolve
Being consistent doesn't mean tying yourself to the same message and design until the end of time. We live in a society where the way we communicate is always evolving, so it's necessary to be flexible and make updates now and then.
This could involve adjusting social media assets or making your tone of voice more conversational. However, remember that you'll need to make changes to your entire brand – you can't just update your Facebook profile and nothing else.
Lisa Clunie explains:
"Many companies have evolved their brands over the years. Some have kept their core values and others have changed over time.

"A brand that really stands out for me is Nike. They're always keeping their messaging aligned with what's happening in the world and they're edgy and spirited with their social media and marketing."
Relevant resources

Enterprise Nation has helped thousands of people start and grow their businesses. Led by founder, Emma Jones CBE, Enterprise Nation connects you to the resources and expertise to help you succeed.
Disclaimer: The views expressed in this content is solely that of the author and does not necessarily reflect the view of Grow London Local. Grow London Local accepts no liability for any loss occasioned to any person acting or refraining from action as a result of any material in this publication. We recommend that you obtain professional advice before acting or refraining from action on any of the contents of the content.
Grow London Local
Create an account today and get a personalised Business Success Check in under five minutes.
Visit Grow London Local