BLOG
How to grow your small business in simple steps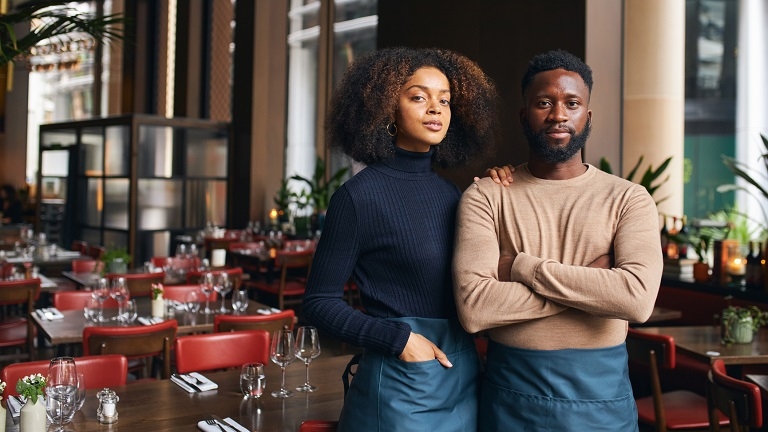 ---
Posted: Tue 17th Aug 2021
So you've turned your business idea into reality and built a start-up from scratch – congratulations! The next step is figuring out how to grow your business, which can be just as daunting.
Growing your business can involve lots of different things: diversifying your customer base, building a team, or launching a whole new product range.
Whatever your ambitions, it's a good idea to start by thinking about your goals and then planning your growth strategy from there.
Luckily, there are plenty of useful resources out there to help with that process. We've created a four-point list of easy and low-cost ways to kickstart your start-up's growth.
Create a plan for your marketing
The internet has made it easier than ever to reach potential customers (unless your target market is cave-dwelling hermits, of course).
However, it's a double-edged sword. There are so many marketing channels that it's hard to know what to focus on and you can end up spreading yourself too thin. That's why you need a clear strategy when growing your business.
A marketing strategy will encourage you to think about your ideal customer and their aspirations, needs and challenges. Once you've got the basics, start thinking about how best to reach them.
Marketing opportunities include:
entering awards

hosting or attending an event

social media
Make sure your marketing strategy also measures what's most effective too. While it's useful to test lots of different opportunities at first, your goal should always be to identify the channels you'll focus on.
Read more:
Develop a sales strategy
Building a sales strategy is about having a system and creating a repeatable formula.
Much like a marketing strategy, a sales strategy encourages you to think about what works and doesn't, which will help you sell more effectively in the future.
It's common to rely on your network or ad-hoc sales when first starting out, but you risk hitting a wall when your business is growing and you've tapped out those opportunities.
When demand increases, you need a way of keeping track of conversations and the triggers that are converting people into customers too.
These six steps are a good place to start when developing your sales strategy:
Create customer personas.

Develop your value proposition.

Understand how marketing activity raises awareness and generates leads.

Set SMART sales goals that drive performance.

Use a CRM system to store customer information.

Develop a pipeline to track deals and monitor performance.
Read more:
Secure the funding you need to grow
While growth can happen organically, there are plenty of growth plans that need a cash injection. You might want to invest in bigger premises or expand your product range, for example.
Whatever kind of funding you're seeking, you must have realistic expectations and be able to make a compelling case for your business.
Here are four questions to ask yourself:
What's my growth goal? Potential lenders and investors will look for a strong plan of how you'll spend the money and how it will translate into business growth.

How much cash do I need? Be able to justify the amount you're asking for. This can also help you figure out the best funding route.

Is my business future-proof? Look at the direction and growth of your industry to check that investment is worthwhile.

What am I willing to offer in return? Whether it's loan repayments or shares in the business, make sure you know what to expect.
Read more:
Find the right people to help
Most founders find themselves wearing lots of different hats when they first start up – you're a one-person sales, marketing and operations team. But growing businesses will need extra support and manpower, so don't try to do it all alone.
Business coaches and advisers are a great resource for sense-checking decisions, holding you accountable to goals and even spotting opportunities you might have missed.
Extra hands on deck are often needed when your business is growing as well. The good news is that there are plenty of short-term, flexible options available:
Hiring on a fixed-term contract

Working with a temping agency

Bringing in freelancers
The other alternative is to make your first permanent hire, which is an exciting step for any business. You'll need to make sure you have a clear idea of what the role will entail and the skills and experience you need.
Read more:
Develop your business with a mentor
As part of the Help to Grow: Management Course, you have access to 10 hours of one-to-one support with a business mentor who has a good understanding of the role of the mentor and the course. Start searching for your perfect mentor now

Enterprise Nation has helped thousands of people start and grow their businesses. Led by founder, Emma Jones CBE, Enterprise Nation connects you to the resources and expertise to help you succeed.
Disclaimer: The views expressed in this content is solely that of the author and does not necessarily reflect the view of Grow London Local. Grow London Local accepts no liability for any loss occasioned to any person acting or refraining from action as a result of any material in this publication. We recommend that you obtain professional advice before acting or refraining from action on any of the contents of the content.
Grow London Local
Create an account today and get a personalised Business Success Check in under five minutes.
Visit Grow London Local